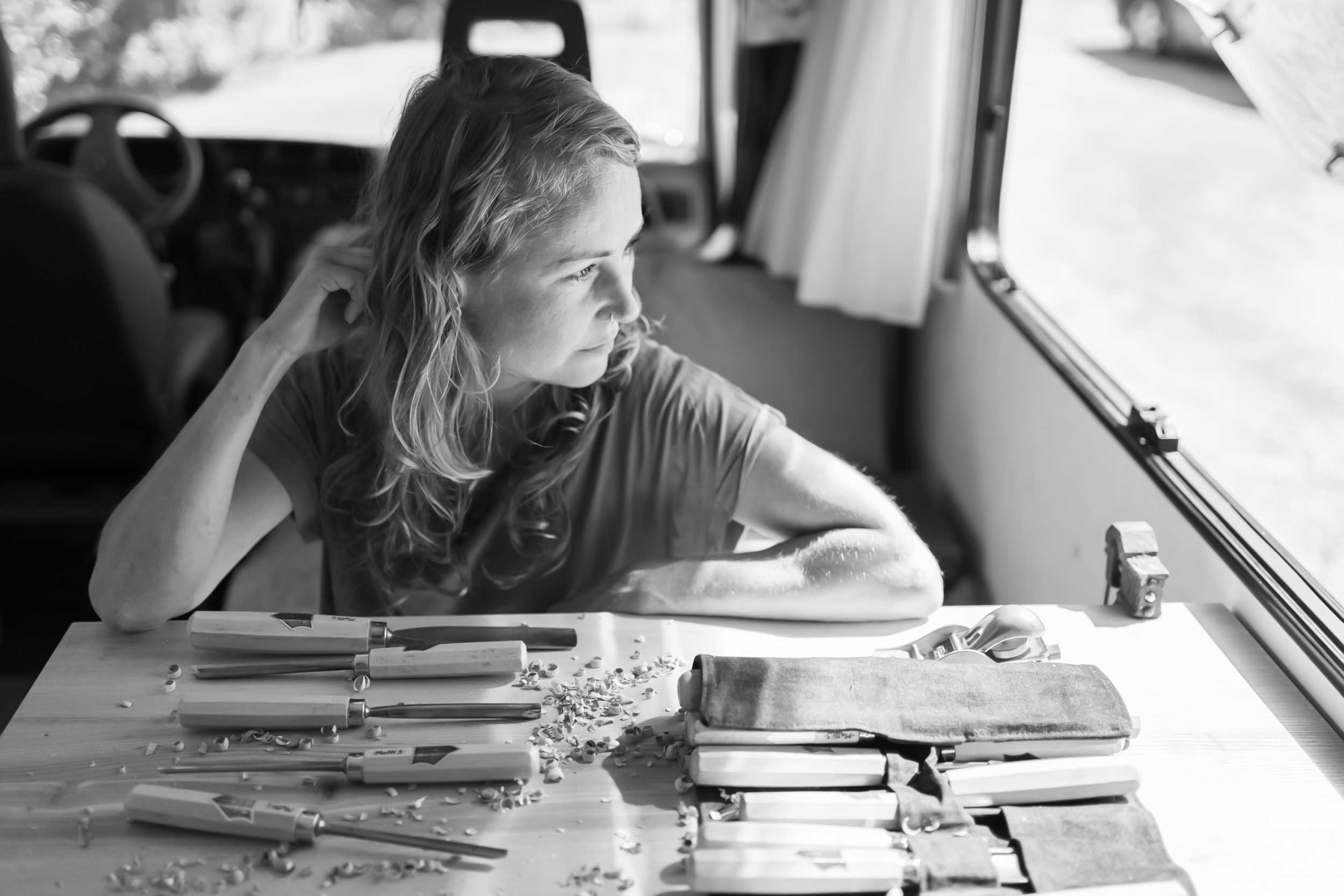 Nomad artist creating high quality sculptures and installations for private homes and public spaces. Bringing peace and calmness of nature to the space. 
I'm Minja Kolehmainen,
an artist and a cabinetmaker from Finland.
Everything is handmade from the start to the finish with loving kindness and with respect for nature. Nature is the most important value for me. Carefully selected material, high quality and sustainable sculptures.
Most of the time I find myself exploring in the water, at the beach or on the rocks. These places bring me peace and comfort in my head. Time stops. These moments are precious, calm, gentle and meditative. These feelings I create on the surface of the wood. 
My purpose in this lifetime is to keep alive the Finnish craftsmanship, experience and see the beauty of life and share it with you in the form of my art. 
You can follow my journey at instagram and tiktok: @minjakolehmainen
Sending love and kindness. 
Your artist,
Minja <3
Lets meet
Come and visit my solo exhibition C O N N E C T I O N, at Kupru Gallery, Fiskars, Finland. 19.-30.7.2023
CV
EDUCATION
2013-2015
Further education, Vocational examination of woodworking, apprenticeship at Nikari Oy, Fiskars, Finland
2011-2013
Vocational qualification in basic woodworking, Teuva, Finland
2006-2009
Applied Arts BA, University For Creative Arts, Kent, Rochester, UK
2005-2006
Västra Nylands Folkhögskola, community college, visual arts, Karjaa, Finland
EXHIBITIONS
2023
Yhteys/Connection, solo exhibition, Kupru Gallery, Fiskars, Finland
2022
Meillä on vain tämä hetki, solo exhibition, Onoma Shop/Gallery Fiskars, Finland
Konstrundan, Minja & Mobile Workshop, pop up -exhibition, Vallila Taiteilijatalo, Helsinki, Finland
Minja & Mobile Workshop, Pop up -exhibition, Night of the Arts, Helsinki, Finland

2019
Factory, Fiskars Summer Exhibition, Finland
2018
Fiskars pop up -exhibition, Design Werk, Copenhagen, Denmark
Nikari Stories, Takenaka Carpentry Tool Museum, Kobe, Japan
2017
Greetings From Suomi -satellite exhibition, Tre, Helsinki, Finland
Greetings From Suomi, Fiskars Summer exhibition, Finland
2016
Habitare, Onoma´s Stand, Helsinki
2015
We Love Wood(s), The Finnish institute in Paris, France
We Love Wood(s), Artek, Helsinki
We Love Wood(s), Fiskars Summer exhibition, Finland
2010
Contemporary voices in wood, Few and Far, London design week, Uk
2009
Notting Hill Design Fair, London, Uk
100% Design, Earls Court, London, Uk
Mint Escapes, Mint, London, Uk
Northern Line, Design Forum Finland, Helsinki, Finland
Hackney Wicked Festival, Lion Works Gallery, London, Uk
New Designers, Business Design Center, London, Uk
WORK IN COLLECTIONS
6/2023
Museum For fine Woodworking objects, New Hampshire, USA
WORK
-2023
Artistic work
11/2022
Art installation, Fiskars School
7/2021-7/2022
Working Grant, Artistic Work in a Mobile Workshop, Finnish Cultural Foundation
2015-2021
Nikari Oy, Cabinetmaker, Fiskars, Finland
2018-2019
Member of art committee, Onoma, Cooperative of artisans, designers and artists in Fiskars, Finland
2010-2011
Unto This Last, Machining CNC router, Cabinetmaker, London, Uk
OTHER
-2023
Member of Ornamo
-2015
Member of Onoma, Cooperative of artisans, designers and artists in Fiskars, Finland